Moxyland by Lauren Beukes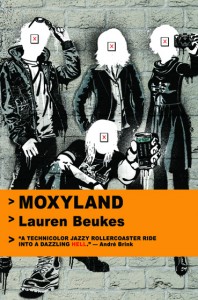 Angry Robot Books, available now.
A near future Cape Town, where corporations and governments work hand in hand to maintain each others dominance and control over the populace. This is a fast and furious near-future dystopia, that feels scarily real.

Moxyland follows the four people whose stories are closely intertwined. Kendra is an up and coming artist, about to make it into the big time, and now a sponsorbaby for a corporate brand. Toby, broadcasting his life in the hope of becoming famous. Tendeka the idealist rebel trying to become a hero. And Lerato, ambitious corporate employee.
Although each of them want different things from their lives, the four individuals are about to have an impact on each others lives.
Since this is a near future SF novel, the technology isn't that far ahead of what we are familiar with. Mobile phones have become more important, becoming both payment method and identification (both ideas being put forward by phone manufacturers and evangelists now) to the point the mobile phone is the most important part of identifying you as you. And is also the key to controlling the citizenry. Disconnection isn't an inconvenience, it is a restriction of both movement and peoples ability to interact with society. Coupled with workable genetic engineering, this is a worryingly believable novel.